Horse Fence Prices ......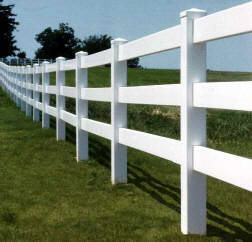 3Rail 7.5′ post New Prices for 2022 (includes 80% of shipping cost with most orders)…….168′ to 400′ $9.94 per ft……….. 401′ to 1504 ' $9.54 per ft………… 1505′ to 3456′ $9.22 per ft……… 3457′ to 7400' $9.00 per ft. …..
4Rail 8′ post system:(includes 80% of shipping cost with most orders)
1′ to 400′ $12.31
401′ to 1504′ $12.08
1505′ to 4032′ $11.82
all other footage will be quoted
Cross Buck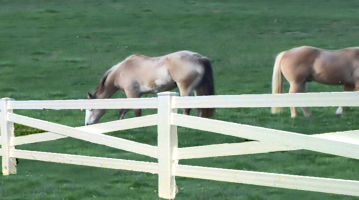 Heavy Duty 2×6 Rails will be quoted on large orders only
Tan is 15% more than white and Khaki is 25% more than white)
Cross Buck System is same cost as 4 rail system

Vinyl Horse Fence Ordering Procedure
When you are ready to order, contact us by email or by phone 410-836-3092 with the following information:
The total footage
Any gates
Number of end posts
Number of corner posts
3-way posts
We will put this information on an invoice and either fax or email back to you. Send copy of signed invoice (fax or email.) Order will be placed when the signed invoice emailed is received. When we receive your check * with a copy of the invoice in the mail, your order will be placed in line to be made.
Order will be shipped out between 3-6 weeks depending upon the day your order is made, what type and amount of fence, and where you are located.
*Credit cards are accepted for an additional cost of 2.9% added to total as this what the credit card companies charge us.