EasySnap Electric Insulators ......
Electric insulators for vinyl horse fencing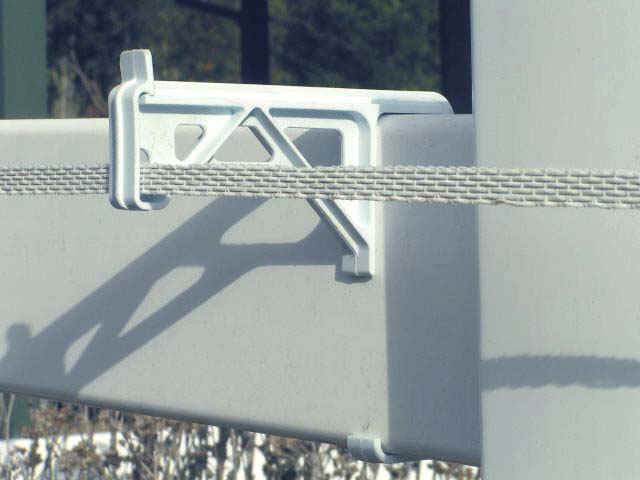 Easy Snap Electric Insulators provide you with the flexibility to quickly install, raise or lower electric wire or tape fencing on your vinyl fencing.
Insulators cost $1.90 each
Stop Drilling Holes In Your White Vinyl Fencing! If you need to or want to, adding an electric fence has never been easier. We realize some horse owners have a horse or two (or cattle, limas, alpacas, sheep etc.) which believe that the grass is always greener (and tastier) on the other side of your fence and continually reach through, under, and/or over it. Maybe they like to constantly rub up against the posts and rails. Or you may want to keep other critters out of your fenced area. Whatever the reason, we have an easy and attractive solution.
The patented Easy Snap Insulator provides you with the flexibility, versatility and affordability to quickly install, raise, lower and remove electric wire or tape fencing on your vinyl rail fencing, without a single screw or drill needed. Snapping over the rails in seconds, the Easy Snap Insulator provides a solid and secure platform for you to run your electrical wire and tape, saving you hours of installation time and maintaining the beauty of your fence. Attaching the electrical wire or tape is a snap as well, holding almost any gauge electrical wire or width of electrical tape/rope that you are using, the Easy Snap Insulator's locking mechanism will hold it securely in place (no accidental detachments from wind or bouncing wire that can occur with drill and screw mechanisms).
Built to protect! As you can see from the design, the Easy Snap Insulator does not have sharp edges or pointed areas that could potentially injure a horse or animal. Even the thick vinyl itself will not shatter, but is designed to maintain its structural integrity under extreme duress, while remaining flexible. Because of its versatility and ease of use as a vinyl rail electrical fence insulator, it allows you to adjust to the varying needs of each type of animal that you raise and expand the use and effectiveness of your vinyl or even your wood fencing.
Inside Corners made easy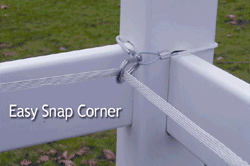 As you can see with the image , the Easy Snap Insulator even addresses the inside corners issues facing vinyl fence owners. If your wire tension is heavy, then the Inside Corner Cable Unit is your best solution, but if your distances are short, the double insulator is a great inside corner solution as well. The Easy Snap Insulator line of fencing products is designed to give each user choices that meet your specific needs without ever damaging the beauty and functionality of your vinyl fencing.
Corners cost $7.10 each
Built for a purpose! The Easy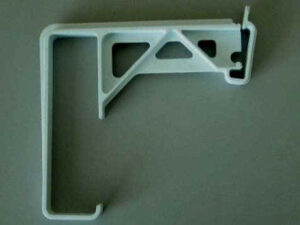 Snap Insulator is made specifically for clients who use standard vinyl rail fencing (1.5 x 5.5 inches). If your vinyl fence provider utilized a slightly different specification, or you are unsure of your specifications, we suggest starting with a sample pack (consists of 1 Insulators for $10 includes shipping) order which will allow you to test the viability of the brackets on your fencing. Once you have verified that it will work for you, then place your full order. Your satisfaction is very important to us. (Special colors can be made on orders of 500 units or more – contact Robert Biser for details) If you need to send insulators back because they don't fit, a 15% service charge applies to refund
The Easy Snap Insulator allows you to make those fast and critical electrical fencing adjustments to address the ever changing needs of a ranch or farm and livestock you raise. To lower or raise electrical fencing you simply release the wire or tape from the locking mechanism, release the bracket from the current rail, snap it onto the higher or lower rail as needed, then reattach the wire to the bracket. No more packing around tools, no more re-drilling holes, no more installing screws. Almost anyone can install and/or adjust an entire length of electric fence within minutes.
We even made ordering easy!
Calculating your needs is as easy as counting the number of posts in the section that you plan to run your electrical wire or tape (even though the insulators hang on the rail in between the posts). Place your order today – Made in the USA Have any questions please call 800-838-3092 or send me an email.
TO ORDER
Please send email with let me know what you need, where they are to be shipped if different from the address you listed.
I will email you back, or call if you like, with the total cost and payment options – you can pay by Credit Card (all credit card orders will have an additional 2.9% added as this is what the banks charge us ) or send check is fine.