Company News
This is where I'll announce the most recent additions to our web site. If you've visited us before and want to know what's changed, take a look here first. Shopping for horse fence? This is our 31st year of using UltraGuard® Fence on our horse farm.
This is the 168 th update to our web site. This update is a completely new version. I hope 2022 will be a good one for you all. Shipping time for horse fencing is about 3 to 4 weeks. New prices have been posted on our horse facing page.
EASY SNAP Insulators We are the Worldwide Distributor of Easy Snap Insulators electric fence insulators for vinyl fence. If you need to or want to, adding an electric fence has never been easier. We realize some horse owners have a horse or two (or cattle, lamas, alpacas, sheep etc.) which believe that the grass is always greener (and tastier) on the other side of your fence and continually reach through, under, and/or over it. Maybe they like to constantly rub up against the posts and rails. Or you may want to keep other critters out of your fenced area. Whatever the reason, we have an easy and attractive solution. Click here to go to the EASY SNAP page.
LINKS PAGE Blog postings which I have articles on many different topics of horse ownership, fencing, and other topics. Visit the page, choose a topic and maybe you will find something of interest.
It Always Comes Down to Trust Since vinyl is made from petroleum and natural gas, it dictates our prices. We will continue to supply the best vinyl horse fence and not cut any corners. Beware of other companies selling cheaper vinyl fence or mixing other products with your order to sell at a lower price. The "other" companies want just your money, we want your satisfaction. That has been our promise since 1984. I am the only Horse Fence Company that puts the prices right on the web. You don't have to call for a "free" quote or fill out forms to get prices. If you know the prices, so do the "other" companies. They have ways of making their prices seem better, i.e. selling you shorter post, mixing other rails in your order, making you responsible for getting damaged material (due to shipping) corrected, poor or non- existent service after you buy, etc. It always comes down to trusting the company you are doing business with.
Credit Card Options We also accept credit cards for an additional cost of 2.9% on Horse Fencing added to total. The Credit Card Companies charge us 2.9% of the total. For our customers who want to order EASY SNAP Insulators, you will need to send/call with where they will be ship. I will then let you know the shipping charge. Most orders are shipped 2nd Day Priority . There is a credit card charge for ordering Easy Snap unless you send check instead.
Second Warranty Our second Limited Warranty that we offer is a "courtesy" warranty. We will send you rails or posts that your horse breaks based on individual circumstances and is for the first year. We pay for the material, you pay the shipping. This is done to help acquaint horses to the new fence system. The rails and or posts will be free and you pay for the shipment. Usually we will send you two 8′ rails in place of a 16′. We will ship UPS, which is the best way to ship, both for less cost to you and no damage to material.
Horse Farm Consulting Need help with setting up your horse farm? Look at our Horse Farm Consulting page, as this Service is available Nationwide.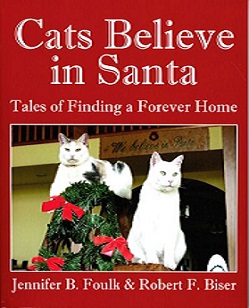 Just a little side note: I have become a Cat Foster Home provider for one of the local Animal Rescue groups in Maryland. I keep several rescued cats and care for them until space becomes available for them at PetSmart for their adoption program. My daughter and I have published (came out 1/8/12) a new book "Cats believe in Santa" Tales of Finding a Forever Home, and is available on Amazon.com, Barnes & Noble (bn.com) and many other online book stores.
Some of the proceeds will go to Animal Rescue Inc. It is heartwarming tales of the cats at Pine Brook Farm, with full color pictures, and information on the needs and care of our Feline Friends. The book is for year around enjoyment with Christmas Spirit as the theme. Check out our book on Amazon.com