Round Pen ......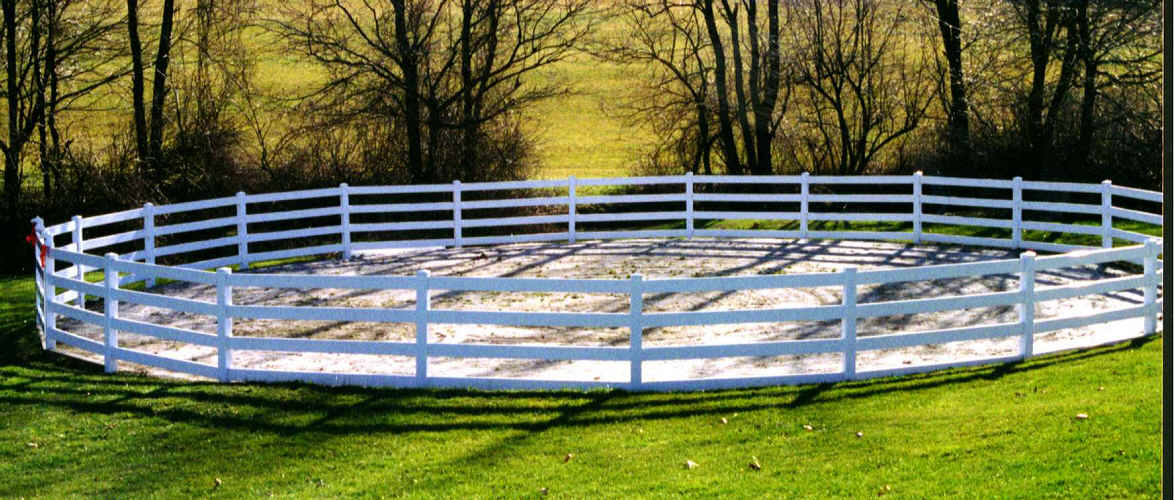 Vinyl Fence Round Pens for Horse Training and Warmups
60′ Vinyl Horse Fence Round Pen – All 2″ x 6″ Heavy Duty rails, 9′ post ( allows for finish height of 5′ to 6′ ) and one 8′ gate with stainless steel hardware. $3,475.00 plus shipping. Comes with 9′ aluminum reinforcements for the gate posts.
This 4-rail system using 2″x 6″ rails and 9′ post with finished height of top rail to 5, 5 1/2 or 6 feet. There are so many training and exercises you can do in the round pen, that it will make you and your horse better companions, and provide a safer area in which to work.
The 60′ (this is actually 62′) Round Pen you see above is on my horse farm and it has given me and countless riders the opportunity to warmup and "join up". I have also used this to "start" horses for the first time (old term was "break" horses). With the studied Monty Roberts training, it is an exciting way for horse and rider to join together the first time and only take an average of 20 to 40 minutes to build that "trust" between man and horse. Never again does so much punishment have to be thrown at a horse to make him a rideable horse.
This round pen is a great way for you both to warmup for either a today's lesson or a prelude to a hack or an enjoyable trail ride. Also a good place for keeping a couple of horses occupied while you clean out the stalls or wait for the Farrier or Vet to arrive.
Another Custom Round Pen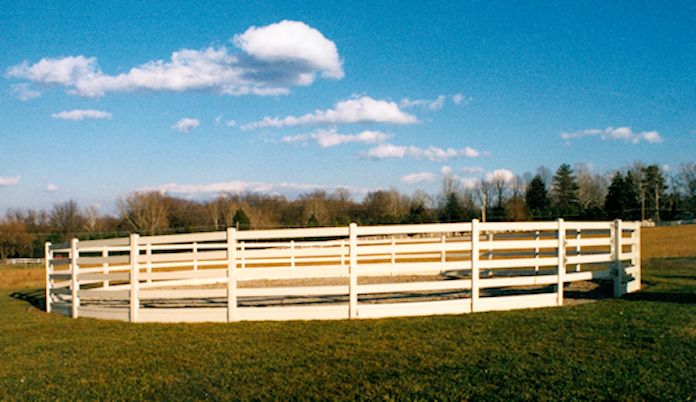 This round Pen is an example of what we can make for our customers. A 4-rail system with an additional "kick" panel on the bottom in our Tan color system. This helps keep the sand from leaving the pen on extensive usage and for certain weather conditions.
Let me know if you need something special and we will make it for you.