Welcome to Perma Well Inc.
Worldwide Wholesale Distributor for PW UltraGuard Vinyl Horse Fence. For over 30 years we have been bringing Horse Owners around the country the best Quality horse fence and the Safest horse fencing for their horses. Click here for the current Horse Fence Prices .Need help setting up your horse farm? Look for information in our Horse Farm Consulting section. I've been using UltraGuard vinyl horse fence since 1994.
My Mission :
To provide you and your horses with the best Vinyl horse fence and HPDE horse fence systems for the best price on the market today.
One of the first things, I want to see, when I look for a product is how much does it cost. There are several "Prices Tabs" right here on the home page to show you the cost of our Horse and Farm Fence. It is my way to say "Welcome" to our site and hope you find what you were looking for.
With my knowledge and experiences with horses, and having UltraGuard on our horse farm for 31 years now, I can answer any questions about your fencing needs. " Other companies want just your money, I want your satisfaction." That has been my promise since 1984. You can be assured that quality and service will be there for you, before and after the purchase.
Call any day, 7 days a week and your questions will be answered. If I'm out with the horses, I'll call you back soon. It always comes down to"Trust"! A Company doesn't last as long as we have without it. That is me and my "pal" in the picture…I'm the one with the dark hair.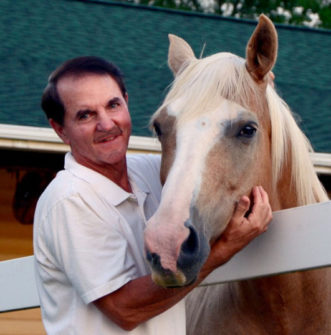 Robert Biser, Pres Perma Well Inc. with Grandby
Post and Rail Vinyl Fencing at Pine Brook Farm
Vinyl Horse Fence - Safest and Best Horse Fencing System - Made in the USA